Replace manual plotting of DNA fragment mobility with digital simulation.  Compare your gel with the image simulation to confirm complex banding patterns.
Starting at just $345.Buy SeqBuilder Pro Today!
Feature Highlights
Add one or more sequences, enzymes, primers and markers to the view.
Define gel parameters such as dimensions, percent agarose and run time.
Choose from a large number of commercially available gels and molecular weight markers or specify your own custom gel dimensions or custom markers.

Gel Simulation View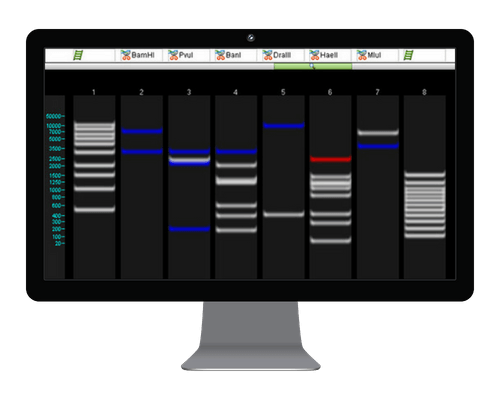 Fragment Summary View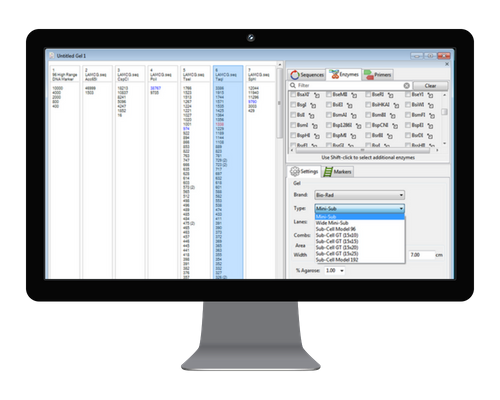 System Requirements
SeqBuilder Pro has minimal hardware requirements. For successful projects, we recommend:
Windows
64- bit Windows 7, 8 or 10

Intel compatible Pentium class processor
1 GB RAM
2 GB of available hard-disk space
Internet access (required to authorize)
Macintosh
Mac 10.11 or 10.12, 10.13

Intel-based Mac computers
1 GB RAM
2 GB of available hard-disk space
Internet access (required to authorize)
Price + Licensing Options

SeqBuilder Pro is available for multiple license types and prices vary by pack and institution.
Licenses are available as single or multiple pack purchases.  License types vary by total users and installations and prices are dictated by license volume and type of institution: academic vs. commercial.
View our price guide for complete details.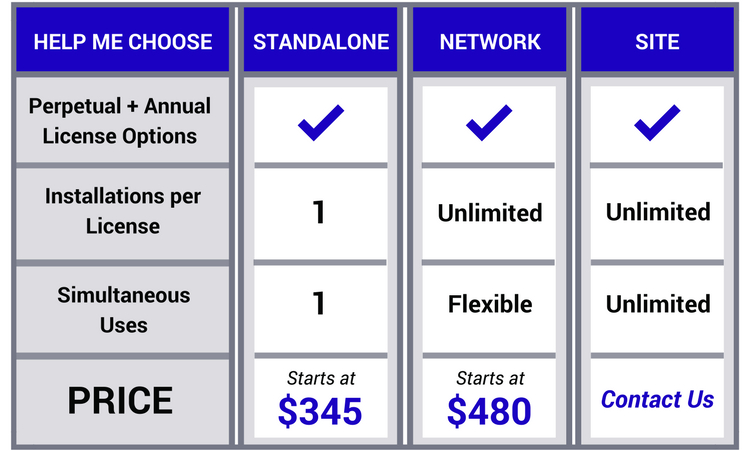 Supported File Types
SeqBuilder Pro supports many file types for import and export.
Transition to SeqBuilder Pro from many 3rd party applications.  Popular file types include:
+ ABI (*.abi, *.ab1)
+ GenBank (*.gbk)
+ FASTA (*.fas, *.fasta)
+ SnapGene (*.dna, *.prot)
+ VectorNTI (*.gb, *.gp, *.ma4, *.pa4)
Click here for a complete list of supported file types.